Continuing with September being Spinal Cord Injury Awareness Month, we are building an accessible treehouse on the ground. My summer goal was to have the roof on and walls up before snowfalls, and so far, we are on track. We've decided that because the deck will wrap around a tree, it's technically a treehouse despite its cement corners firmly implanted on the ground. Recently over dinner with our parents, after they came to inspect our building progress, my father in law, Phil, asked innocently enough if we had a treehouse growing up. I lived in the same house for my entire childhood, while my husband Geoff, now a paraplegic, moved around a lot for his dad's work. My dad, Big Tone, aka Pop Pop, interjected before I had a chance to answer.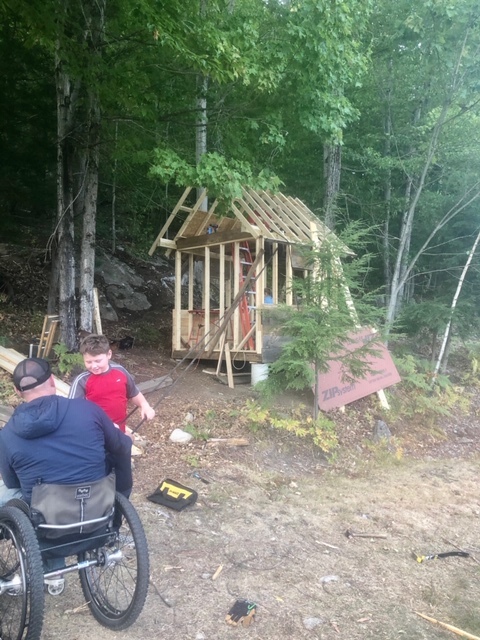 "Did we have A treehouse?" emphasizing the "A" in that voice that only people who knew my dad while we were growing up would recognize. "Try 5-7 of them at any given time," he shared proudly. Greg (my younger brother) was always building something out in the yard, tire swings, teepees, actual tree houses, lean-tos; where did it end? He ultimately became an architect, so I credit my parents with the creative freedoms they gave us with endless hammers and nails and whatever wood remnants were lying around the yard to build with. We see the magic of extra pieces of woods turning into bike ramps for our son, and baby birdhouses both nailed and glued together, then bedazzled by our daughter. If school closes before winter, I fully plan to enroll my children in a self-taught Industrial Arts class like the one I took back in seventh grade when we constructed clocks and gumball machines. Our teacher threw chunks of wood at us if we walked too close to the band saw yelling, "Kickback," but not caring if he hit us. That's a real teacher from the 1980s.
So if you've been following our story over the last few months, during a very cold, COVID April, we rescued a treehouse that had fallen out of an actual tree and lay sort of in pieces at the bottom of the rotted out tree trunk. By "rescue," I mean various friends helped us to deconstruct the walls from the base and transport with the owner's permission back to our property. I had this vision to take what had fallen and reconstruct it as our playhouse, but I'm not so great with power tools– nor have I ever built a safe structure. Geoff cared more about the repurposing of the old wood to create something sturdy while incorporating some ancient windows and the antique door he found along the way. I cared about our kids having a play space outdoors yet undercover to serve as a clubhouse of sorts once playdates and friends ran rampant again. I must believe that one day our yard will be filled with kids again, and this clubhouse, treehouse, mountain cottage is a promise towards our kids' childhood post-pandemic.
But today, today just about killed me. Our engineer friend Ken has taken this project on out of love for our children and his need to be needed. We have PLENTY of people who have offered to help with this tiny house, but on the days where we need to move the real heavy wood, it tends just to be me, Ken, our dear friend, Geoff, my wheelchair rolling well-meaning husband and our nine and ten-year-old kids. Today Ken had it in his head that we would pull these giant sheets of plywood up the side of the structure with a pulley system. "It's fine," he assured me, "Geoff and the kids will hold onto the rope and pull the slack on the rope, and then you and I will slide the plywood into place on the roof.'So simple.
However, if you had driven by our home and seen Geoff and the kids holding onto the black rope, yanking the slack, and watching the plywood slide into place on the roof, you might have pulled over and yelled, "How can I help? This does not look safe!" I would have agreed with you, but I have to say, our kids were so engaged in the project that they never wavered once on the rope with my husband, Geoff. Built into the side of a small mountain, surrounded by granite and trees, the treehouse is set upon perhaps the flattest smallest parcel of land on our entire property. There is a loft for only the smallest children, windows, and salvaged rough sawn wood planks with character and strength. The promise of hours spent in imagination or on the accessible deck, not yet built, repurposed from a dock on Little Squam Lake. Our children will remember building this with their dad, their mom, Uncle Kenny, friend JJ, and countless others. They will remember this fall for wearing masks to school and literally raising the roof with rope and hope.
Heather Ehrman Krill is a writer- wife- teacher-mom who lives in the White Mountains of NH with her husband, Geoff, a paraplegic and professional skier, and their two children, Carver and Greta who are 10 and 9. Please check out her novel True North, website www.heatherkrill.com, author FB page Heather Krill, and @heatherkrill1 on Twitter.